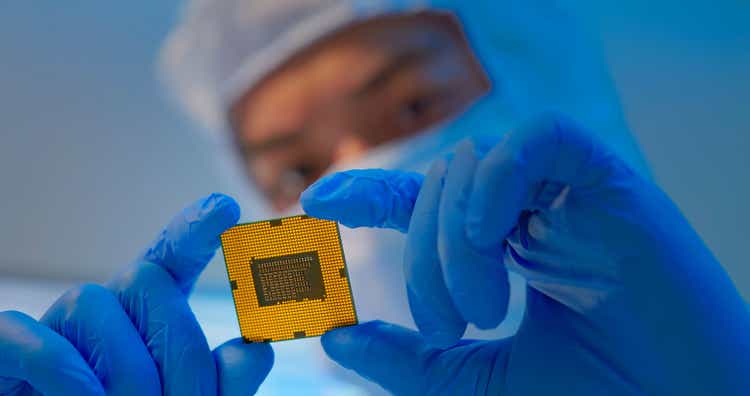 August kicked off with more tech earnings reports, but a controversial trip by U.S. Speaker Nancy Pelosi and the wild ride of the newest meme stock poster child also managed to grab the attention of investors and Wall Street over the past week.
Pelosi caused a stir when she went to Taiwan in what was the highest-level visit of a U.S. political leader to Taipei in 25 years. Chinese government officials voiced displeasure over Pelosi's visit, while the House Speaker made comments to assure Beijing that her visit didn't signal a change to the U.S. government's "One China" policy.
While she was in Taiwan, Pelosi met with officials from Taiwan Semiconductor (TSM) and other chip companies, and discussed the Chips and Science Act that includes $52B in U.S. government support for the semiconductor industry.
The chip sector was also busy with the quarterly results from Advanced Micro Devices (AMD). While AMD's (AMD) second-quarter results were upbeat, the company got taken to task a bit due to its slightly disappointing third-quarter outlook.
Intel (INTC), which recently gave its own quarterly outlook that left something to be desired, was reportedly close to putting the wraps on a deal to spend $5B on a chip packaging and assembly plant in Italy.
By the end of the week, memory chipmakers were on edge after Western Digital (WDC) gave a weaker-than-expected quarterly report and outlook. In addition to Western Digital (WDC) shares falling more than 5% on Friday, other companies either in, or with ties to the memory market such as Micron Technology (MU) and Nvidia (NVDA) ended the week in the red.
Going back to Taiwan for a moment…Apple (NASDAQ:AAPL) reportedly told its suppliers in Taiwan to re-label any products they ship to China to say such items were made in "Taiwan, China" or "Chinese Taipei" in order to avoid scrutiny from Beijing officials.
Apple (AAPL) also was in the crosshairs following a report that 15 current or former female employees accused Apple (AAPL) of having its human resources department retaliate against them after they made accusations of misconduct occurring at the company.
Chinese Internet and e-commerce giant Alibaba (NYSE:BABA) got a boost during the week following upbeat first-quarter results, and the company saying it would "strive" to maintain its listing on the New York Stock Exchange after the U.S. Securities and Exchange Commission placed the company on a watchlist for possible delisting.
One company that got an arguably excessive amount of attention from investors what one that for many had only become a "thing" since mid-July: AMTD Digital. (NYSE:HKD).
The Hong Kong-based company, which develops digital platforms for industries such as banking and entertainment, went public on July 15 at $7.80 a share, and rose to as high as $2,555.30 a share on Wednesday, and ended the week at $721.23 a share on no real news from the company. In fact, AMTD (HKD) officials said in a statement that they knew of "no material circumstances, events nor other matters relating to our company's business and operating activities since the IPO date," and that they were aware their shares were "undergoing our initial stabilization."