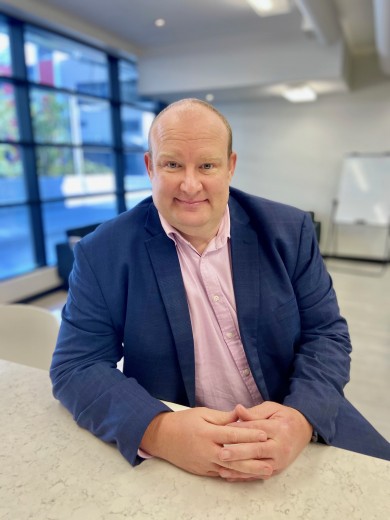 Bell Partners Insurance MD Matthew Bates has not looked back since departing a sales and marketing career in the media industry to run his Sydney-based brokerage.
How did you pivot from media to broking?
These days people have a second career and I fell into insurance broking in my late 30s. My prior roles were in media and dot comms in large publicly listed companies like realestate.com, APN News & Media, Westfield and News Corp.
I cut my teeth in sales and worked my way through to national director roles. When my second child was born when I was 38, I was denied paternity leave as it was the start of the new financial year, and it just got me thinking as I always had it in the back of my mind that I would like to own my own business.
I love helping clients, I am a relationship driven guy with a good element of care. A friend was in broking and when I left Westfield in 2014 I looked at my LinkedIn connections and saw so many people were in insurance, whether workers' comp, loss adjusting, underwriting or broking. I reached out to a couple of those networks and revisited a discussion I'd had years prior … and the rest is history.
Like anything in life there was a bit of luck. Bell Partners was looking at setting up a general insurance division more formally and growing that division. I knew I had the skills. I knew everything in business but didn't know insurance and the technicals.
I jumped into it, warts and all. I spent a lot of time working on relationships with underwriters, insurance agencies and reading the whole policy wordings. Everything else came second nature to me.
It certainly was a steep learning curve but a really exciting one and I still love it today, having that differentiation when a claim might be a little bit of a grey area or go a bit pear shaped, and then pushing the insurer to check the additional benefits and the wordings in a policy.
That's the passion that I bring to my clients, making sure I am there in their time of need. It might sound a cliché but that is the fun part for me.
Really, I have never looked back. It has been full steam ahead.
How is the business going?
I will have been running this business for eight years in December and we are approaching an $8 million GWP business and we have nine staff.
Last financial year we grew at 34%, which was unbelievable. That's a testament to the team and having a mobile workforce and being available. We heard a lot of brokers and insurers have struggled with response times. We picked up a lot of work because our response times were still as if we were operating outside the pandemic.
This financial year we are sitting at about 31% up and we still have May and June to be closed off, so we had significant growth which was fantastic.
I am looking at hiring staff – planning to add another three headcount – and we are looking at M&A as well. I have two applications I am in the middle of due diligence, bringing in partners either in Melbourne or Brisbane, given we have a presence in those offices but not from an insurance broking perspective.
We have a very wide depth and breadth of knowledge across many industries
Renewals are strong. We have a very strong retention rate, sitting at around 98.7% retention at the moment, we do that quarterly. I am expecting our domestic portfolio to have some changes with investors offloading some assets or people being potentially more price conscious around their policies and premiums and maybe going back to the direct market.
I am anticipating the next 12 months could have the effect of some domestic leakage for those that have both their business and personal assets with us but I am a high energy positive guy and we have a strong healthy pipeline for the next four months or five months.
Up until November I am seeing very positive opportunities and interest and market reviews that we have been asked to quote against or pick up. So I remain very optimistic that the next 12 months should continue the success that we have had over the last seven years.
How do you spend your leisure time?
My son and daughter are primary school age and my wife helps out in the business as operations manager. We never thought we would end up working together but that was one of the changes that happened during covid, she could see there was some help required.
I am a large lover of red wine and have a collection of 2000 bottles. I don't think you can go wrong with a Margaret River or a Barossa Valley Cabernet Sauvignon, or a Tasmanian, Yarra Valley or Geelong Pinot. We produce some wonderful wines in Australia.
We love entertaining, and I love my fast cars and boats, that is a passion of mine. I am teaching the kids how to wakeboard at the moment.
I have an SUV given I have the family and to tow the boat but I have always wanted to have some sort of luxury supercar, whether that be a Ferrari, high end Porsche or McLaren or something like that – it's certainly a dream I am chasing for my 50th birthday in four years instead of having a big party or going overseas.
I tell my team I am taking over the world one policy at a time – so as long as I keep writing new policies each month we will hopefully get there.
This is it for me, no other career change, I really still have a high passion and energy for what I do for my clients and the industry. When I go, it is because I will retire, but I think I will always keep my hand in in some shape or form. Maybe just go to Friday lunches with some clients – I do enjoy lunch every now and again.